London is Europe's (and probably the world's) most diverse city. Around 300 languages are spoken by its immigrants, which amount to a staggering 2.5 million inhabitants, or 30% of London's population. The most accessible places to take in this ethnic diversity is in London's markets. London has about 350 markets, and many of the most colourful are found in the city's enclaves of immigrants. The primary attraction of these markets is that they sell cheap and exotic foods, as well as clothes and other consumables or household stuff.
Even the middle-classes are attracted to these markets, to buy eccentric or rare stuff, particularly decor pieces or clothes, as well as exotic or rare foods. Many Londoners flock to the weekend markets as an outing, attracted by the bustle, the fabulously exotic trinkets, and the inexpensive food. For tourists, markets hold various allures: inexpensive ethnic food, Victorian architecture, unusual and affordable crafts and antiques, and the best places to check out London at its most colourful, particularly in the ethnic areas. Some of the best markets have been created by the ethnic communities who came from former colonies to settle in London. Following is a selection of London's best markets — for history and architecture, for ethnic sights and diversity, for bustle and inexpensive trinkets and food.
Brick Lane Market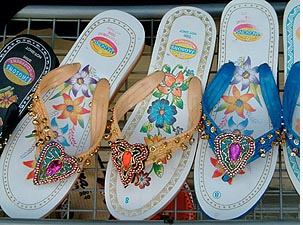 Harking back to the 18th century, the Brick Lane market has always been associated with the waves of immigrants that call this district home — from French Huguenots, to Jews, to the present-day Bangladeshis. This area remains one of the most socially depressed in London. The nineties, however, have seen an influx of media-type, liberal young people looking for a colourful area in which to live, which has informed the current character of the market and spawned many curry houses, cafes, bars, and club-bars.
The market itself is probably London's most chaotic and disorganised — and quite lawless. Many things you encounter have fallen out of cargo trucks, especially electronic goods, while other goods are possibly imported or smuggled without duty-charges from Asia. You will find anything here, as stalls and goods are always changing: cheap clothes and footwear, furniture, general crafts, household stuff, records and CDs, books, tools, stationary, foodstuffs, and general bric-a-brac.
Most Bangladeshi products are found in shops on Brick Lane, which brim with music CDs, perfumes, Islamic wall hangings with Koran recitations, bombastic jewellery made of precious and semi-precious stones, and colourful shoes and slippers, some studded with semi-precious stones. Another reason to visit the market is for the curry houses: stiff competition ensures the availability of the most inexpensive, and the best, curries that can be had in London.
On Brick Lane, Cheshire Street, and Sclater Street, every Sunday between 9am and 3pm. Tube station: Liverpool Street.
Brixton Market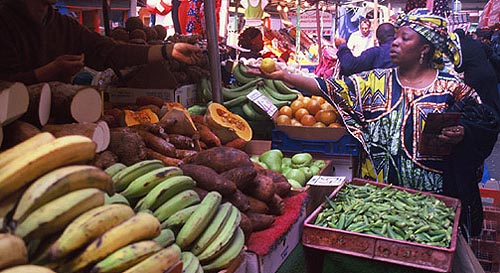 The most ethnically diverse district in London — now a highly desired area for media types who like Brixton's cultural carnival and street grime — is reflected in its African-Caribbean market, which has the largest selection of African and Caribbean food in Europe. Trading in fruit and vegetables started in the 1870's, and the market was boosted by the installation of electric lights in Electric Avenue, one of the first shopping streets to benefit from electricity in the 1880s. The area, and the market, then gathered new momentum in the 1950s with the arrival of waves of Afro-Caribbean immigrants lured to England to plug in the post-war labour shortages.
Now it is the Afro-Caribbean and, to a smaller extent, the Asian character of the market that is the most interesting. The market is divided into two sections. First is an outdoor food market along Electric Lane, where you can find exotic foodstuffs from the Caribbean (such as fish and plantain), east Asia (lots of Chinese foods), west Asia (prickly pear, octopus, Halal meats), and Africa (yam, Ghanaian eggs, goats and pigs' heads festooned to hooks, fish fry). The rest of the market sprawls in three arcades covered by glass roofs — Market Row, Reliance Arcade, and Granville Arcade, the largest and oldest, built in 1937. In the arcades you will find a carnival of shops: Afro-Caribbean hair salons creating elaborate hair styles, manicure salons where Jamaican women spend hours toiling for perfect fingernails, holes in the wall redolent with Jamaican delis and spices, record shops blaring Jamaican raggae, religious icons and propaganda material (even figures of Native American chiefs), colourful Afro-Caribbean ethnic satin robes, cheap shoes and clothes, and fishmongers who stock London's largest array of seafood.
If you're hungry, Coldharbour Lane has a glut of inexpensive eateries — Veggie restaurants, a poetry cafe with juices and organic cakes, pizzerias, noodle houses, Jamaican joints, and the odd African restaurant. Throughout, there is plenty of street theatre: Jamaicans smoking and peddling ganja, political activists collecting petitions, African women clad in colourful satin robes and bombastic head-dresses, and young Afro-Caribbean men ranting about the word of God in street corners.
On Electric Avenue, Brixton Station Road, and Atlantic Road. Mon-Sat 8am-6pm, Wed food market until 3pm only. Tube Station: Brixton.
Camden Market
What started as a tiny crafts market in 1974 in the disused wharf at Camden Lock has mushroomed into a constellation of markets that now make it London's largest market. It is quiet on weekdays, but it attracts about 150,000 hangers-out and shoppers on weekends, creating a bustle of merriment. This market is the best place in London to find off-beat clothes at a bargain — especially leather-wear, all manners of shoes, retro punk clothes, ultra-modern clubbers' clothes and paraphernalia, as well as other bits and pieces such as colourful sarongs. The crafts section is still located in its original space along the picturesque Camden Canal, and here you'll find lots of exotic trinkets, from cheap jewellery to Aboriginal didgeridoos to Buddha icons to wooden masks from South America. Much of this stuff is actually imported in drips by travellers, who then peddle it at Camden to finance their travels. In this section, there are also many stalls with ethnic food, predominantly Asian, including wok-cooked noodle dishes, fried rice and curries, and tempura.
Once you're tired of the crowds, you can unwind in one of the many restaurants and cafes along Camden High Street, which offer great food at relatively inexpensive prices, or sip a pint of beer at one of the large popular pubs along here. These are full and raucous, and some play dance music on Sunday afternoons.
Camden High Street to Chalk Farm Road. Daily 10am-6pm. Tube Station: Camden Town.
Greenwich Market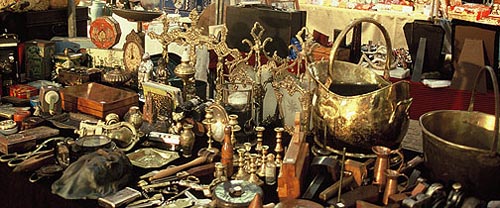 Three markets cluster in Greenwich's centre — the Antiques and Crafts Market, the Village Market, and the Central Market. Most of them sprouted up in the 1990s when new train lines made Greenwich more accessible and increased the tourist traffic. Of all these, the most interesting is the Antiques and Crafts Market, partly because it is atmospherically set in the original Victorian market hall and partly because it has the most interesting stuff — crafts and arts Thursday through Sunday as well as 20th century antiques on Thursdays and Sundays. In this original glass-roofed market (a food market that withered by the 1980s), the anachronistic admonishment on the doorway warning Queen-fearing commoners not to spit, swear, steal or behave impertinently, shows how far things have changed. Victorians would be shocked today by what they might consider the junk of a morally disdainful era. The 150 stalls crammed here are a veritable throve of eccentric crafts and colourful home decor pieces: lots of brass antiques, religious icons, colourful bags, weird belts, wood and paper lamps, mosaic-framed mirrors, curio prints, candlesticks, all manners of clothes, and a section of delicacy foods (chocolates, gourmet bread, cheeses, pickles, and cured meats). There's much else besides in this disparate market, including comics, pop art, second-hand books, and sports memorabilia.
Greenwich High Road, Thurs-Sun 10am-5pm. Trains for Greenwich depart from Charing Cross every thirty minutes.
Leadenhall Market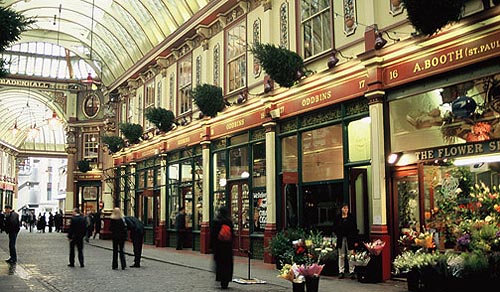 As suggested by the street names hereabouts — Cheapside, Bread Street, Milk Street, and so on — Leadenhall is situated in a zone that had a large concentration of markets in the Middle Ages. A market has existed on this site since the 14th century, and at the time there was even a priest to hold mass to the peddlers and shoppers in the nearby chapel. The medieval market was eventually destroyed in a fire of 1484. It was rebuilt and destroyed again in the Great Fire of 1666, which razed large parts of London. The market sprung up again in a helter-skelter manner until 1881, when the Victorians commissioned then-renowned architect Sir Horace Jones to build the grand structure extant today. His ornate glass-panelled iron-framed roof covers the markets' crossroads, and more ornate Victorian architecture marks the entrances to the market: elaborate gables, pointed round towers, rose windows, red bricks, and sumptuous coats of arms. Inside the market area, the walls are florid and colourful, painted maroon and cream, framed by columns, and with friezes of flower motifs.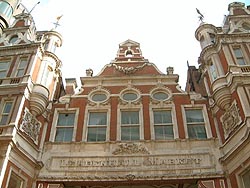 Nowadays the market only has fixed shops, and its location — in the City of London, the flashy financial district — determines the nature and financial reach of its shoppers. The shops sell expensive and exotic foodstuffs such as caviar, seafood, hares, game, wine and champagne, tobacco and cigars, and high-end designer trinkets. There are also expensive gourmet restaurants and some fantastic Victorian-style pubs with flock wallpaper and brass-works. For the visitor, this market offers a glimpse of the cheery imperial city of old, where you can watch the idiosyncratic sight of businessmen having their shoes polished, a practice of another era — proof, if any is needed, of the historical durability of Leadenhall, which is the focal point of a visit to the City.
Leadenhall Street, Mon-Fri 11am-2pm. Tube Station: Bank.
Portobello Road Market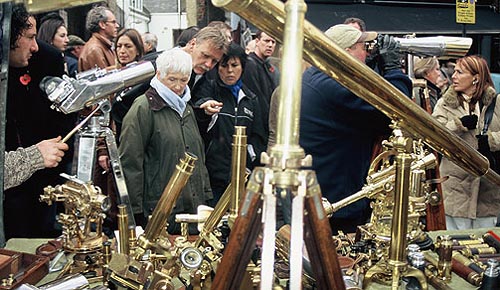 This weekend market is huge, with over 2,000 stalls and trading points sprawling for more than a kilometre along Portobello Road in fashionable Notting Hill, one of London's trendiest districts. The market attracts throngs of people every Saturday. It all started in the late 19th century as a small neighbourhood fruit and vegetable market, but in the 1940s the closure of the nearby Caledonian Market caused displaced antique traders to relocate in Portobello Road. Increasing trade throughout the 1950s and 1960s saw the antique section of the market grow correspondingly.
Nowadays, the antiques and classical-art goods, which make up the first section, are mostly what pulls the crowds, and what the market is notorious for. Aside from the stalls, much antiques are also sold in arcades. You'll find anything from telescopes, stained glass, brass china tea sets, religious icons, brocade curtains, antique kitchenware, old record players, silver letter openers, and so on. The market gets scruffier, and cheaper, further down Portobello Road, with stalls of second-hand records and books, clothes and shoes. Takeaways and restaurants line the route, where quick lunches can be had, and the pubs get full and raucous.
On Portobello Road every Saturday between 6am and 4pm. Tube Station: Notting Hill Gate.
Spitalfields Market
Spitalfields began as early as 1682, and eventually grew into London's main wholesale vegetable and fruit market. The present structure, a market hall with a glass roof whose panels are framed by florid green-painted wrought-iron, was erected in 1893, when it served the downtrodden immigrants of London's East End. Now the once-filthy, makeshift working class market of old has been converted by liberal New Age types into a modern version of artistic chaos, home to stalls that peddle crafts made from wire or from junk scavenged in rubbish tips. It has a section of organic foodstuffs and deli food as well as flower arrangements. It also has plenty of kiosks with exotic foods — South American, Mediterranean, and Asian, all dishing inexpensive filling meals. You'll find stalls of unassuming, comfortable, and inexpensive clothes, and home decor such as carry-home furniture pieces such as mirrors, lampshades, wooden trunks, and candle holders. The market is also home to a bazaar of holistic living — tarot readings, clairvoyance, books on holistic and spiritual health, herbal medicine, lots of masseurs offering all manners of massages — even 'Head Ecstasy' at £10 a pop, consisting of a multi-fingered brass clamp that, when moved over the head in slow circles, sends shivers and tingles down the neck and back. Buskers, meanwhile, fill the background with a cacophony of instruments and vocals.
Commercial Street. Mon-Fri 10am-4pm, Sun 9am-3pm. Tube Station: Liverpool Street.
More Information:
East London Markets
Brick Lane Market
Brixton Market
Camden Market
Greenwich Market
Leadenhall Market
Portobello Road Market
Spitalfields Market
---
Victor Paul Borg, a freelance travel writer, has had over 500 articles published worldwide. He is the author of the Rough Guide to Malta & Gozo, and photographer of attractions in Gozo for a pictorial guide, London Directions, published by the Rough Guides. After living in London for three years, Borg went to Asia on the classical backpacking tour for a year, and ended up staying for two years. Still based in Asia, he is currently writing a book about backpackers and escapists in Asia. More of his writing can be seen at http://www.victorborg.com.